Get Up to 35% Off Today & Free Shipping
Regular price
Sale price
$ 59.95
Unit price
per
Sale
Sold out
Where do you put your valuables when you go for a swim?  FlexSafe is a
 personal anti-theft safe bag that locks onto fixed objects to secure your valuables from thieves.  Lock it to your lounge chair, closet rod, boat railing, stroller, golf cart and more.  Enjoy added peace of mind with FlexSafe on your next trip.
MSRP $69.95
Slash Resistant, Water Resistant & RFID Blocking
Re-Programmable 3 Digit Combination Lock
Light-Weight & Easily Packable
10" x 6" x 2.5" (8oz) 
Anti-Theft Safe Bag 
View full details
Get FlexSafe... The Most Trusted Anti-Theft Portable Safe
Order Today
Best Investment for My Beach Getaway!
⭐⭐⭐⭐⭐ - Sarah P.
"Ordered this for my BFF after seeing it on shark tank. She always vacations at the beach and would worry if one of us didn't stay with out stuff. This is a great solution. Plus we've came up with several other ways to use it. Throw it over the Hotel clothes bar if the room doesn't have a safe, over a stroller or shopping cart, lock to the underneath seat adjustment bar in the car. Great buy and gift choice."
Put your mind at rest and buy this now!!!
⭐⭐⭐⭐⭐ -Kimberly S.
"My daughter took it to a pool party and said it worked great for storing her keys and small personal belongings since there wasn't a real place to for her to put it while partying. "Mom, nothing was stolen"!! .. She thinks it a really cool concept and can't wait to put it to good use at upcoming beach gathering. I just may need to purchase a 2nd one for me, since my current one is already being utilized."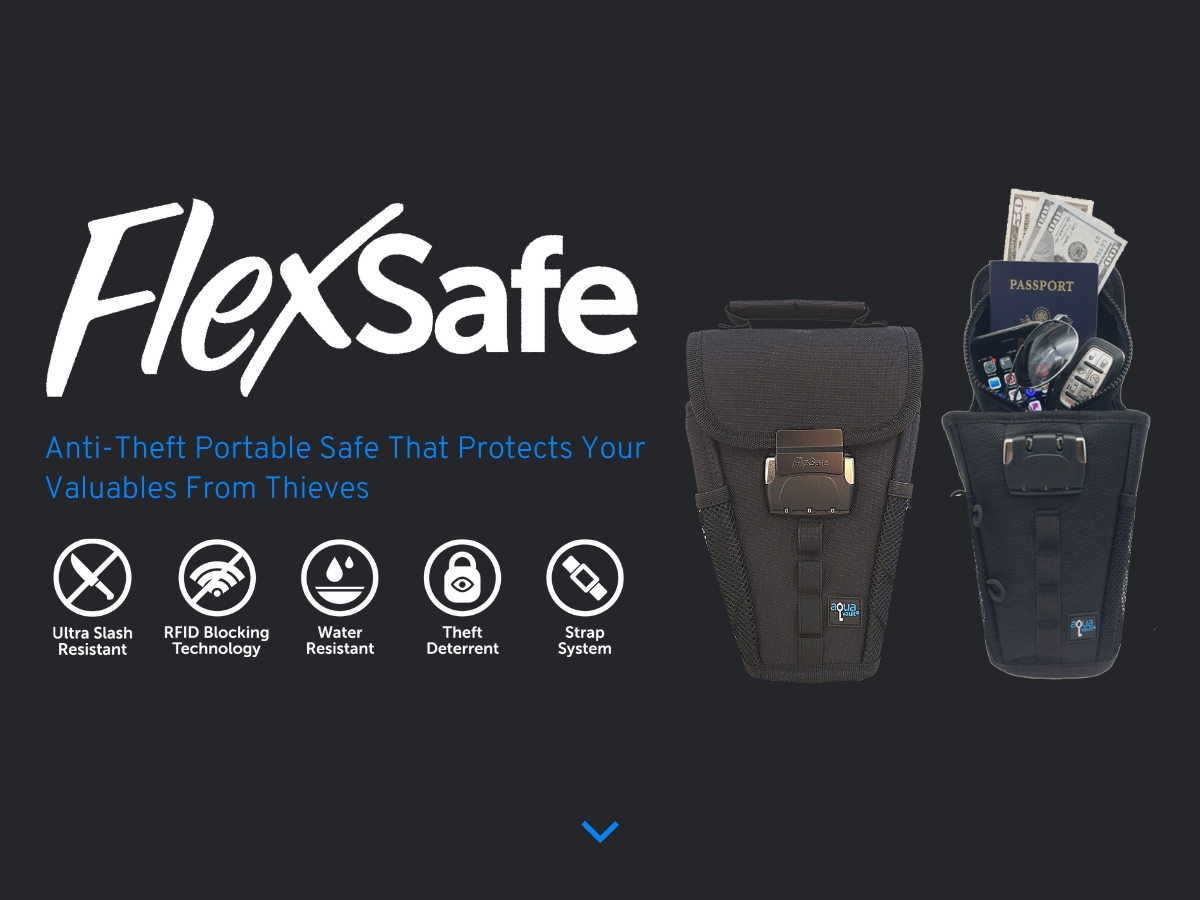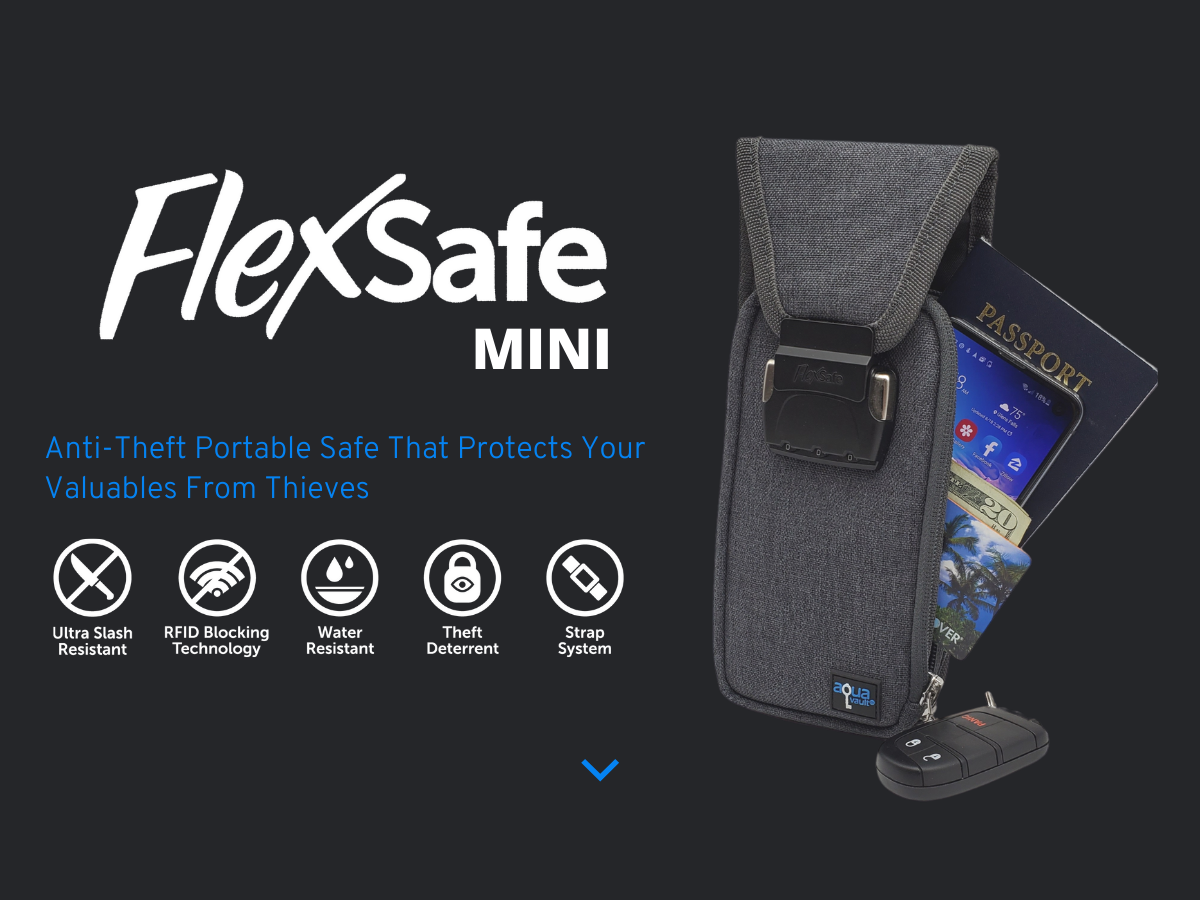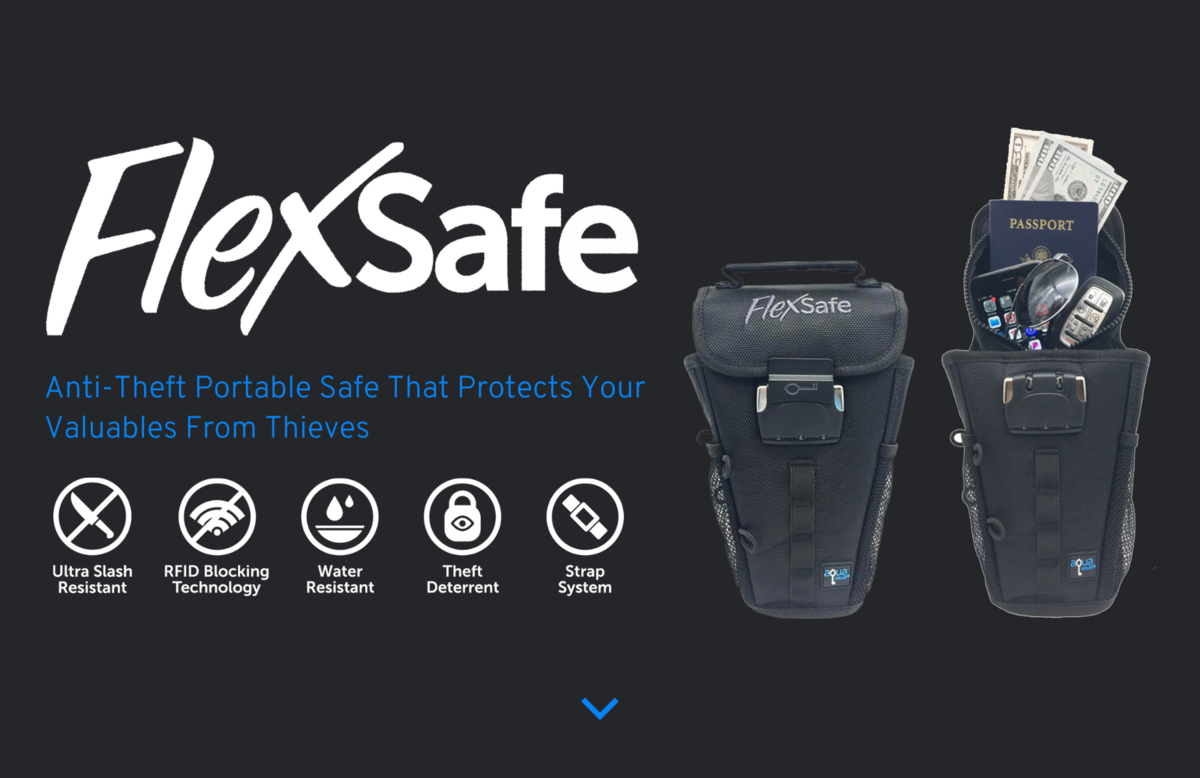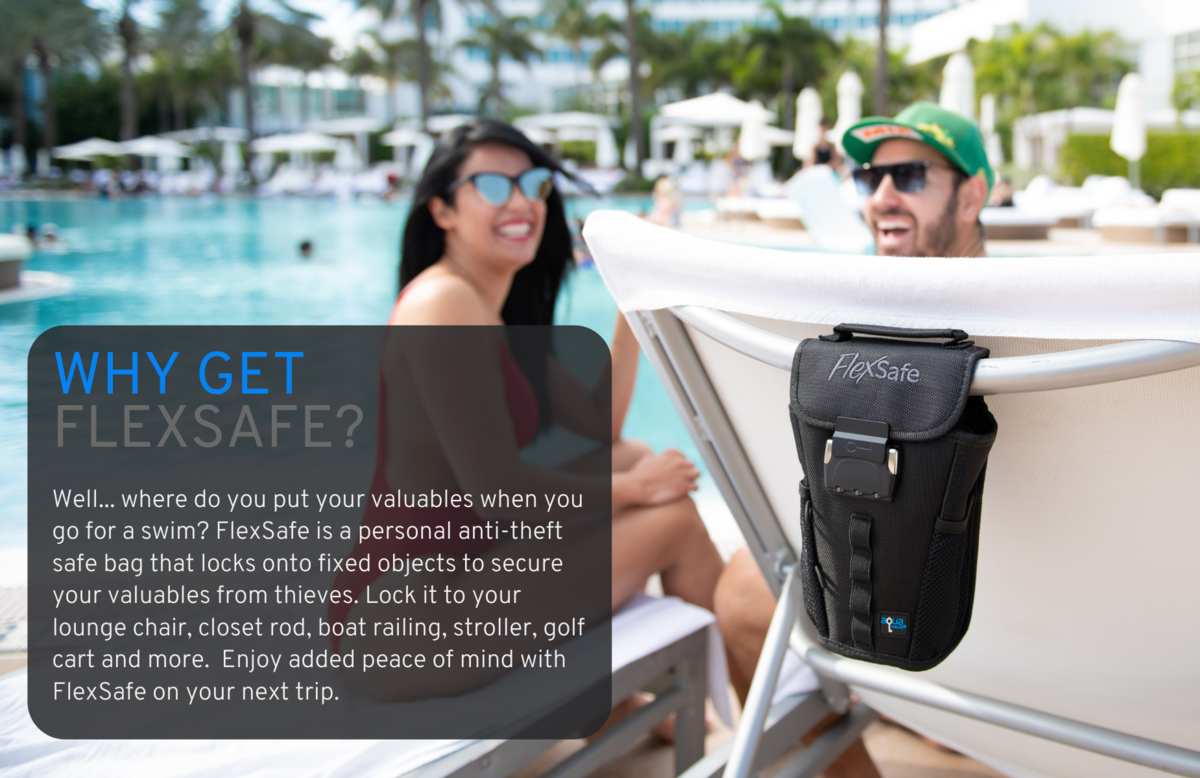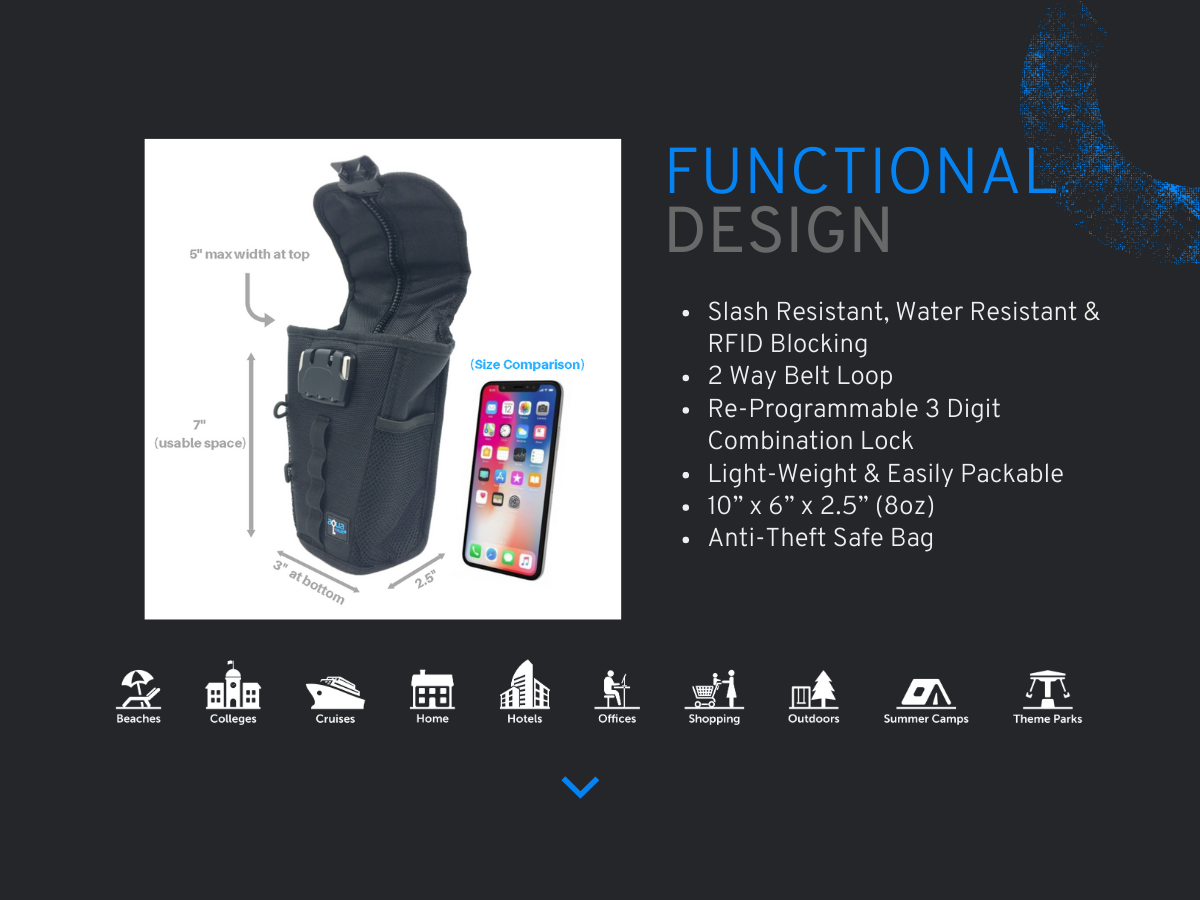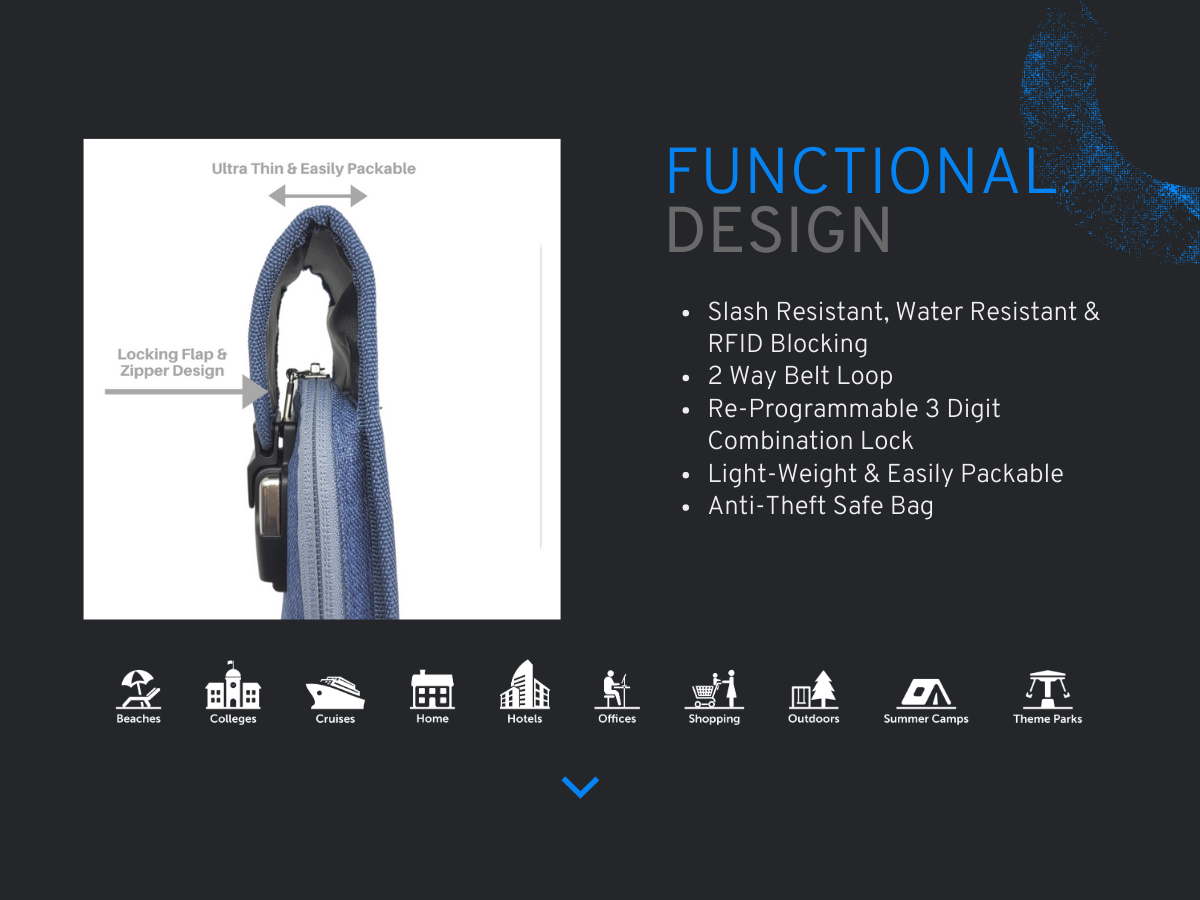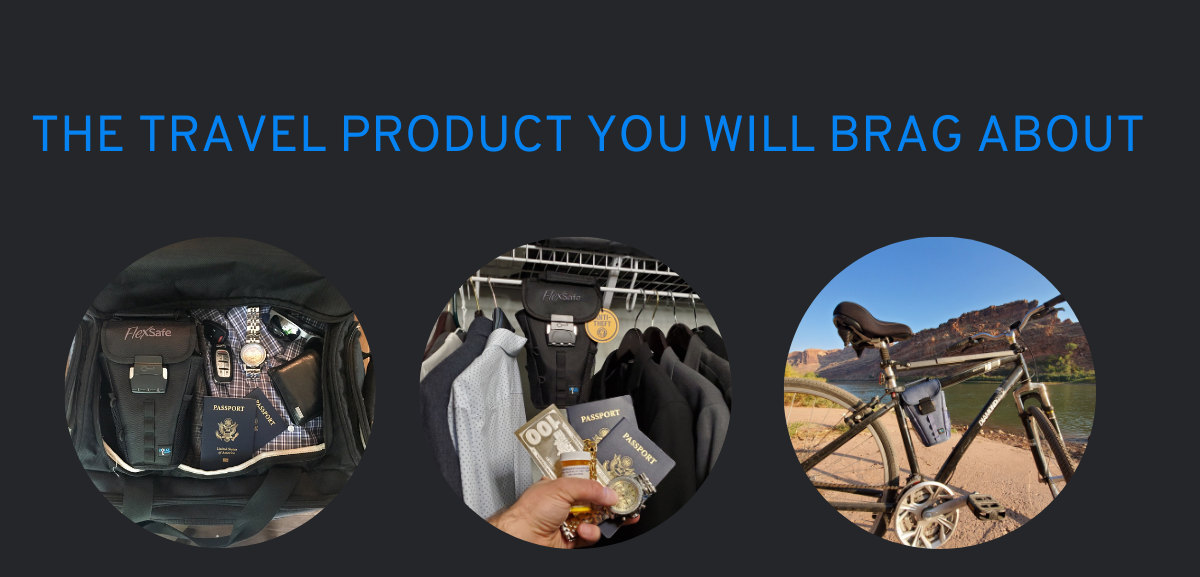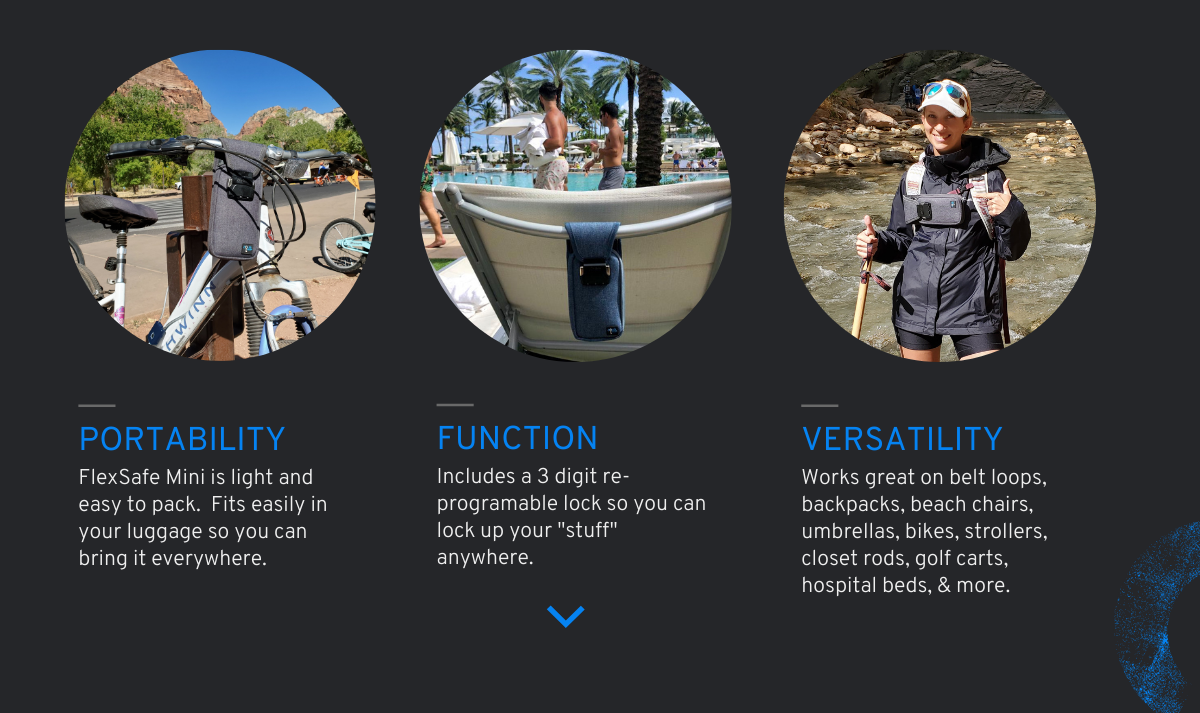 FlexSafe is So Easy to Use
Flexsafe Is a Set-Your-Own Combination Locking Device
Read Instructions and Watch Our Complete Instructional Videos Prior To Use
Fully Test Item Multiple Times Before Using on Vacation.
100% Satisfaction Guarantee
Email Us with any Issues Immediately
Buy Yours Now
Product Specs and Description
Dimensions 10" x 6" x 3" Weighs 10oz
AS SEEN ON SHARK TANK The Flexsafe® is AquaVaults best portable travel safe available. The FlexSafe is the portable lockbox that keeps your phone, wallet, money, and other essential items safe from would-be thieves. The FlexSafe is a portable travel lock box that is cut-resistant and includes RFID blocking material to help keep your digital assets secure. The integrally locking flap allows it to lock on almost any fixed object. It is also flexible and easily packable in even the smallest carry-on luggage. Everyone knows that feeling... you are at the pool and want to go for a swim but "what do you do with your valuables?" This portable safe has a patented design to make sure criminals can not steal your items and they won't be able to run off with the safe itself. There are also pouches and straps on the outside of our portable safes for lose items such as sunscreen or sunglasses. These portable lock boxes are easy to store once you are done using them. Instead of hard shell safes that are solid and space consuming, the flex safe is made of material that is easy to fold and takes up minimal space. This is the best portable safe you have been looking for. It is great for travel and easy to use. Just insert your "stuff", lock to any fixed object, and go for a worry free swim. This portable travel safe will save you time and worry when you see how simple it is to attach to a solid fixture and lock. You no longer have to worry about your exposed valuables being grabbed by thieves. The FlexSafe is the best portable safe to keep your items safe and secure while you enjoy your trip. The FlexSafe is the ultimate portable safe that is packable, flexible and water-resistant with an internal zipper pouch, a universal-fit locking flap, mesh pockets, carrying handle, programmable lock and magnetic closure.