About Us
get to know our brand here
Our Story
AquaVault was started by three college buddies after leaving their careers to take a shot at the American Dream. The young company set out to answer the question:
"Where do I put my valuables when going for a swim?"

We initially faced that same question of where to hide our valuables while at a stay at one of the finest resorts in South Beach, FL. We decided to hide our valuables under our towels and in our shoes. Though only a few feet away, & constantly watching, when we got back, our stuff was gone. Our worst vacation nightmare came true!
"There should be something you could put your valuables into so you don't need to constantly worry"
But there actually wasn't... so we created AquaVault. A year later we made a deal with Daymond John on Shark Tank then invented a new version that is perfect for traveling called the FlexSafe! You can lock up your valuables and attach it to any fixed object and relax without worrying that people are snooping around and stealing your belongings.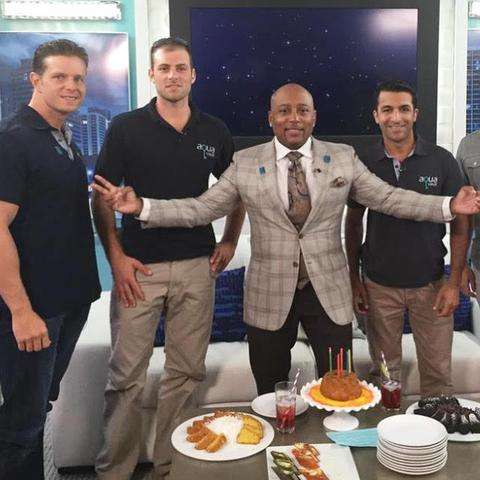 Our Products
AQUAVAULT® : AquaVault is a Portable Outdoor Travel Safe that was invented so you can lock up your valuables and go for a worry free swim. The three founders of AquaVault were robbed at the beach and decided to invent a solution to a problem that effects so many people around the world. You no longer have to look over your shoulder or leave someone behind to watch everyone's valuables. Now you can just put your items in our Portable Safe and attach it to your lounge chair, stroller, bicycle, golf cart, closet rod or whatever else you find comfort in attaching it to.
The AquaVault® is made of durable high impact ABS thermoplastic to withstand aggressive attempts on your valuables. The 120 cubic-inch cargo hull is roomy enough for wallets, watches, mobile phones, jewelry, keys and other valuables. And the best part? It's designed to fit over 95% of existing beach furniture. Once your valuables are secure, you can start enjoying yourself without worry!
FLEXSAFE® : The FlexSafe by AquaVault is a new Portable Safe that is made of lightweight, water- resistant and slash-resistant material for safety and durability. Loads of features include a zipper-reinforced pouch protected by a 3-digit combination lock and magnetic locking flap, mesh pockets, belt loop and several hooks for easy transport. The water-resistant material compresses to the size of a softball for easy packing and portability. We designed this portable safe to fit more than 95% of beach furniture making the FlexSafe the most flexible way to store your valuables!
About Us
get to know our brand here