https://kellysthoughtsonthings.com/holiday-gift-guide-2018/
HOLIDAY GIFT GUIDE
Thanks for stopping by our guide.  We have products for everyone so please check out what catches your eye.  All you need to do is click on the picture or link and it will take you to the site.
TOP PICKS
We want to share with you some exciting gift ideas for the holiday.  Please click on the pictures or links to see more or even purchase.
---
BEACH GLADIATOR FOR RASH AND CHAFING $14
Beach Gladiator prevents and heals the dreaded "chub rub". It helps protect commonly rashed areas. Rubbing clothing often causes a painful rash. Beach Gladiator creates a slick protective barrier that shields the skin from rubbing and friction. It's great for those who surf, swim, boogie board, paddleboard, kayak, or scuba dive. It's also great for walking, running, biking and playing in the beach elements. Surfers rave about its effectiveness. Moms love that it works for their kids at the beach. No more Spandex under your board shorts, or rash guard clothing to buy – this is a rash guard in a bottle!
Coupon Code: Use code KELLY to save 15%
#BestPlannerEver
FOLLOW:
---
FOLLOW:
---
About NaturaBrasil
We believe beauty is about being who you are. And appreciating others for who they are. Accepting differences. Accepting imperfection. Appreciating our wonderfully diverse world. We believe in speaking from the heart and showing our emotions. In doing our best because we love what we do. We believe that when we take care of ourselves we can take better care of others. So, relax, enjoy a good shower, a fresh scent, the silky sensation of a delicious cream.
CASTANHA FAVORITES $55.00
Castanha Creamy Soap Bar 5.2 oz.
Castanha Hand Cream 1.3 oz.
Castanha Body Lotion 13.2 oz.
Castanha Body Scrub 6.7 g
NaturaBrasil–Facebook–Instagram
---
Red Union Suit with Funny Butt Flap "DANGER BLASTING AREA" Men & Women Unisex
Red onesie union suit has funny butt flap with a DANGER – BLASTING AREA – KEEP CLEAR sign screen printed on the flap. These non-footed onesies can be worn as pajamas or loungewear. Men or women can also wear these as one piece long john underwear. Lighter than the original wool union suits, these jersey cotton onesies are more like your favorite t-shirt, but (no pun) they still have the convenient drop seat, also historically referred to as butt-flap, bum-flap, access hatch, fireman's flap, and trap door. These adult onesies have a snap front closure and the drop-seat butt flap has a velcro closure. Matching onesies available in kids sizes.
BUY NOW– On SALE NOW for 39.98 (reg $60) Plus Free Shipping
If buying for the family then get a $25 Instant Rebate Orders over $150 with CODE: FREE25
Follow: Big Feet PJ'S- Facebook–Twitter–Pinterest–Instagram
---
Bubbly Soaps is a handmade artisan soap line made with triple-butters and skin-loving oils which are eco-friendly, vegan and cruelty-free.
$7 for all full-size bars
Holiday Promo: Free shipping on all orders over $25!
Holiday Promo: 3/$20 Artisan Soaps with coupon code: 3FOR20
Follow Bubbly Soaps-Instagram–Facebook–Pinterest–Twitter
Check out the GIVEAWAY
---
Sashka Co.

SASHKA CO. GLASS BEADED BRACELETS ARE HANDMADE BY SKILLED ARTISANS IN THE KATHMANDU VALLEY OF NEPAL. PROCEEDS FROM YOUR PURCHASE EMPOWER WOMEN IN NEED TO RISE ABOVE POVERTY THROUGH FAIR TRADE. ROLL A BRACELET ON AND MAKE A DIFFERENCE.
Bracelets range from $15-$35  Link to purchase- https://sashkaco.com/
READERS CAN USE THIS CODE FOR 40% OFF —  KTOT40
Follow Sashkaco.co – Facebook–Twitter–Instagram
---
De-stink-tive Derriere toilet paper spray is the new eco-friendly alternative to flushable wipes that clog sewer pipes.  Just spray 3-4 times onto toilet paper before wiping, and – voila! – bid adieu No. 2!  Made with natural & organic ingredients.  Dermatologist tested.  Five funny designs: Pampered Pooper, Royal Heinie, Adieu No. 2, Chic Cheek, and Top Bottom.  Also available: a cute hanger that hangs on the side of your toilet paper dispenser – the spray bottle fits inside so it's handy where you need it.
Link to Purchase: https://destinktive.com/collections/frontpage
Price: $9.95 for 2oz spray, $14.95 for 4oz spray, $5 for a 2oz hanger, $6 for 4oz hanger
Social Media Links: Facebook–Instagram–Pinterest–Twitter
---
Link to Purchase: https://destinktive.com/collections/fragrance-flower-pens
Price: $2.95 each
Social Media Links: Facebook–Instagram–Pinterest–Twitter
---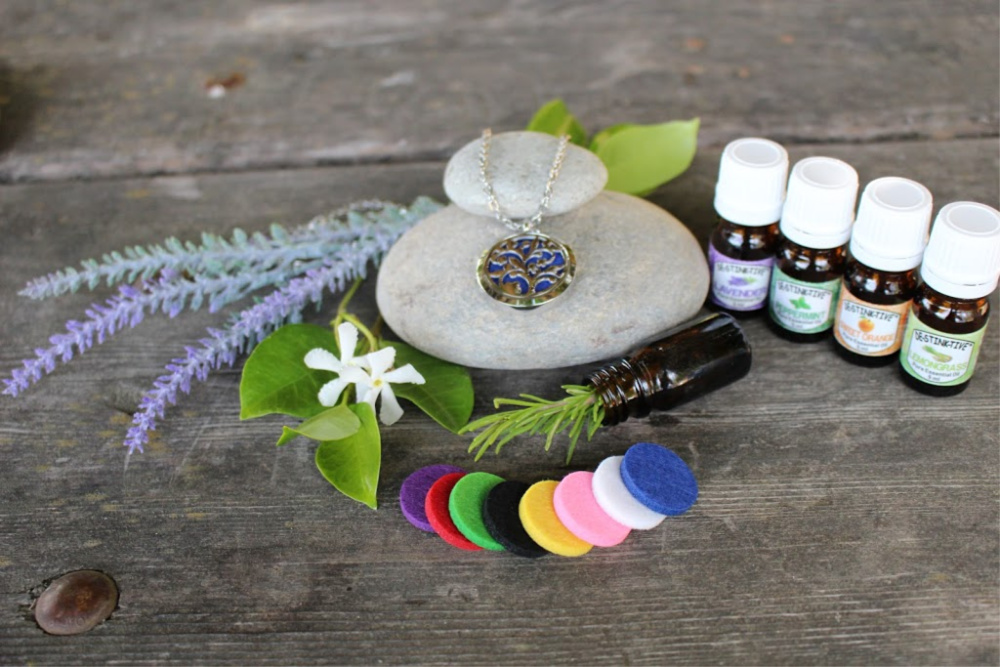 Now you can enjoy aromatherapy benefits all day long with this beautiful 24-inch adjustable aromatherapy diffuser necklace.  Simply place a few drops of essential oil on the felt pad, insert the pad into the locket, and inhale the benefits!  Comes with eight washable and reusable pads in different colors so you can mix and match with your outfits.  Packaged in an attractive gift box.
Also available: Our cute essential oil kit has four 5 ml bottles of 100% pure, therapeutic grade essential oils: lavender (CALM), peppermint (REFRESH), orange (BRIGHTEN), and lemongrass (UPLIFT).  It's the perfect accompaniment to our beautiful aromatherapy diffuser necklace.
Price: $19.95 aromatherapy diffuser necklace, $16.95 essential oil kit (pack of 4, 5-ml bottles)
Link to Purchase: https://destinktive.com/collections/aromatherapy-jewelry
Social Media Links:  Facebook–Instagram–Pinterest–Twitter
---
Our bar soaps are hand-crafted in the USA by master artisans using the highest quality ingredients for a luxurious and fragrant experience.  Made with natural vegetable oils, enriching shea butter, and beautiful scents.
MOONLIGHT ROSES: features fresh hydrangea flowers mixed with rose fragrance. Contains sea salt, ground oatmeal, and rose petals.
COOL SPRING: Cool Spring is a clean, manly fragrance. Contains sea salt as an exfoliant.
PETAL DANCE is a sweet perfume fragrance with musky undertones.  Contains rose petals.
LEMON ZEST: combines sweet lemon with lemon rind fragrance.  Contains sea salt as an exfoliant.
Link to Purchase: https://destinktive.com/collections/bar-soap
Price: $4.95 each
Social Media Links: Facebook–Instagram–Pinterest–Twitter
---
Follow on Twitter–Facebook–Instagram
---
$14.99 for one, $24.99 for two
---
Our handcrafted toffee is made in our coastal kitchen in Florida and created in small batches, ensuring the best quality and the greatest attention to detail.
Whether you prefer our traditional Sea Salt Toffee or would like to experience something new and bold, such as our Bourbon Toffee, Coffee Toffee, Orange Bliss, Key Lime Toffee or one of our various seasonal toffees, you will be amazed with our melt-in-your-mouth consistency that's hypnotic, heavenly, and unlike any other gourmet toffee. Indulge!
Read more: https://ameliatoffee.com/shop
$7-3oz bags
$15-6 oz holiday gift boxes
$22-16 oz holiday gift boxes
Follow on Social Media: FB Amelia Toffee Company/IG AmeliaToffee
WE LOVE THIS TOFFEE!!!
---
Inside the Drynk's slim, stainless steel body, vacuum technology keeps hot drinks or soup hot for up to 12 hours and cold drinks cold for as long as 18 hours. The bottom features a built-in anti-slip coaster. Each Drynk comes with two interchangeable lids. The Sipper boasts a magnetic latch that keeps the lid open as you drink. The Gulper is a wide-mouth design for guzzling or pouring into the two cups — also included. Drynks are available in 12 and 20-ounce sizes, and in gold, black, graphite, purple, green, shiny black and white.
Read More $29 to $41
Follow On Social Media
---
Stainless steel, leak-proof containers nestle atop one another in a designer metal body that uses VacuTherm technology to keep food warm or cold for up to five hours. Removable partitions mean you can carry up to six courses in one Tyffyn. No more fattening fast food and expensive meals out and no more leaky plastic containers in landfills. Tyffyns are available in two sizes with three different-sized inner containers (300 mL, 400 mL, and 600 mL), and a wide range of colors and patterns. They all have a 1-year warranty.
Read More $49 to $62
Follow on Social Media
---
 100% WATERPROOF FLOATING CASE